That's right. Today I have the second page of month 12 to share with you for Joshua's baby album. I believe I will only have 4-6 simple pages left to finish the album. Yay!!!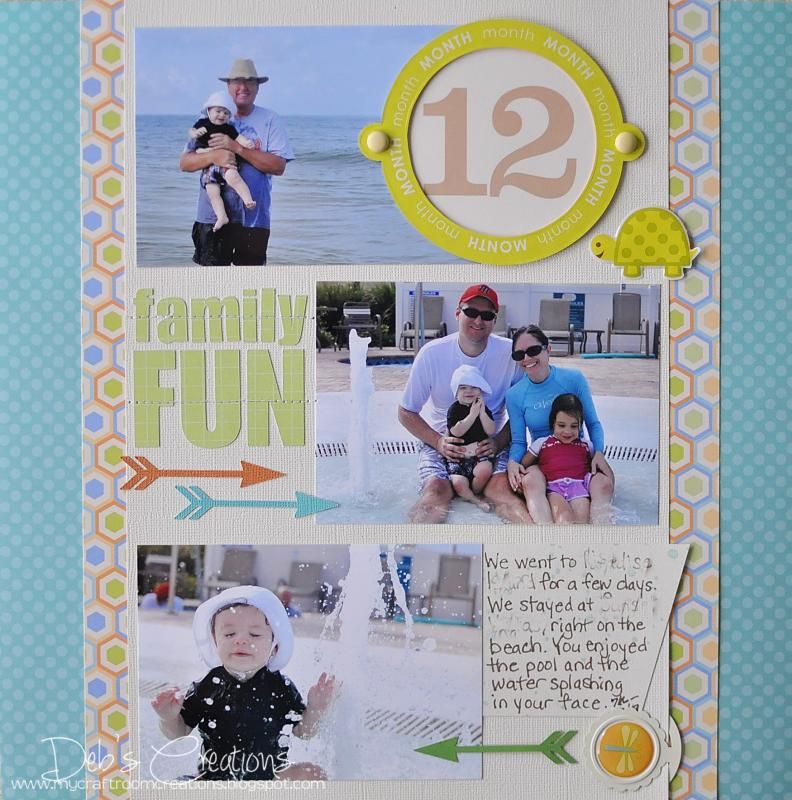 If you have been following along with his album, then you know that the main part uses Becky Higgins Sweet Baby kit. The cream cardstock and arrows are the only part not from the kit. I did use my Silhouette to cut out the title and arrows. I did add some machine stitching through the title. If you look closely (although I blurred out some details of the journaling for privacy), you may notice some aqua splatters. I used
Small Splatter
from DeNami Design to create a bit of a water splash to compliment the photo.
So happy to be on the homestretch of his baby album. Work has been busy and so has the rest of life that I haven't had much opportunity to craft in large amounts of time. But like they say in "What About Bob?"...baby steps, baby steps.
On a side note, the hubby and I celebrated 11 years of marriage yesterday. Unfortunately after dinner, we forgot to take our group selfie. Oh well. And this was the first year that we did not buy each the traditional anniversary gift or give each other a card. Like I said, we've just been a little busy.
He had a gig with his band,
ELEVATORS
, 2 weeks ago. He has performed at this venue once before and we had an awesome time watching their performance. They are gearing up for the Florida Music Festival at the end of the month. They currently have one song that is recorded. They plan on fundraising to earn some more money to record a few more songs and have an EP release. I am so excited for him and the rest of the band. You can find their current release
here
. (Btw, my hubs is the one on the left playing the blue bass guitar.)
Tomorrow is the DeNami Design Buttons and Bows blog hop, so Leah and I will be back to share our creations. That's right, my little girl has something quite creative to share. Thanks for stopping by!