Hello friends and welcome to the first stop along the DeNami Design Buttons and Bows blog hop. We hope you find tons of inspiration along the way. If you get lost, you can head back to the
DeNami Design blog
for a full list of participants. The first participant of the blog hop is my daughter, Leah. Now I realize that she is my daughter, but her creativity astounds me.
For Leah's card, she started off with some yellow cardstock for her cardbase. She wanted to use some of my most decorative buttons that she could find and she did a pretty good job. She wanted to tie bows of twine through her buttons. She tied all of these bows by herself. She wanted to create a little girl using her buttons so she chose a heart button to represent her heart. And since she wanted her in a field of flowers, she chose flower buttons and drew her stems and leaves with markers. She added a sun in the top left corner. When I asked her about a sentiment for her card, she did not want it to be a birthday card. I immediately thought of
Hope Blooms
and she said that it was perfect.
Here is what she had to say about her card:
"I made the human just to have a little bit of detail. But when I found out that I could choose from a lot of buttons, I decided to make flowers. And that's why it looks how it is."

Next up along the hop is right here. Me.
For my card, I used some soft stone cardstock for my base. I used a technique that I learned from Kristina Werner using vellum and copics. I used my butterfly die on the soft stone cardstock front panel. Then I used two different shades of blue and one green marker on the vellum scrap paper. I attached this to the inside using my ATG. Then I added a piece of white scrap cardstock behind it to really showcase the color. I stamped
Get Well Soon
for my sentiment. I added an
aqua boutique button
which I threaded 1/4 inch silk ribbon and tied a bow. I used this same technique on
this card
that I created for Pin-spired. Lastly I added some patterned paper to the bottom of my card.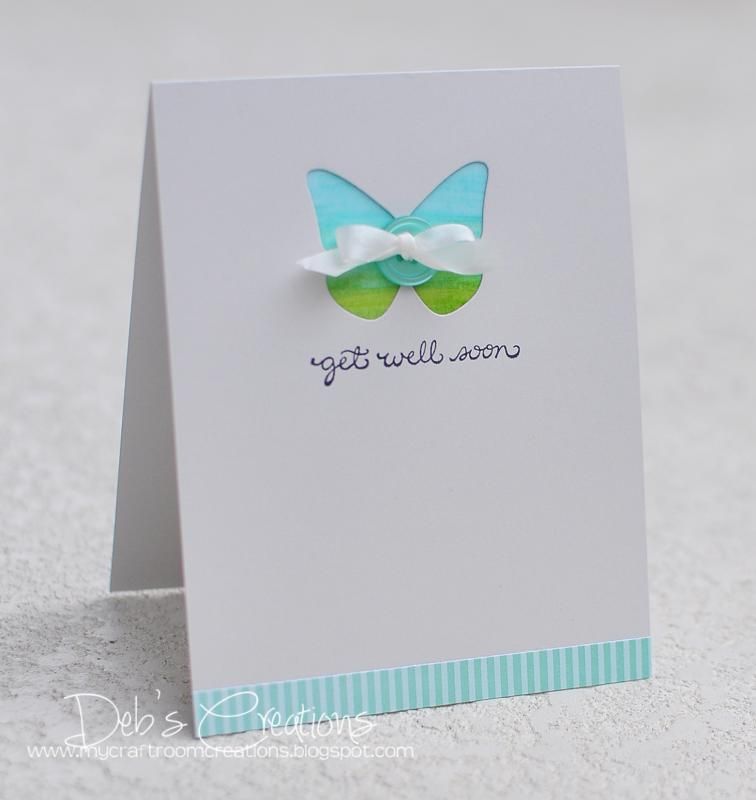 Next up along the hop is the extremely talented
Greta
. She is the sweetest and always has such kinds words to share. I love seeing what she creates.
Don't forget about the THREE gift certificates that will be given away! One gift certificate will go to a random participant and TWO gift certificates to TWO people who comment along the hop! You have until April 14, 2014 11:59pm PST to comment and be eligible.

Have a great rest of the week! Happy hopping!