Hello friends! I am back as promised. Today I am sharing the first two page layout for Joshua's school album. Just as with Leah's album, I am limited by the pictures that his teachers were able to take. So unfortunately, for his infant class, we only had 3 photos!
The products I used are from the Becky Higgins School expansion kit.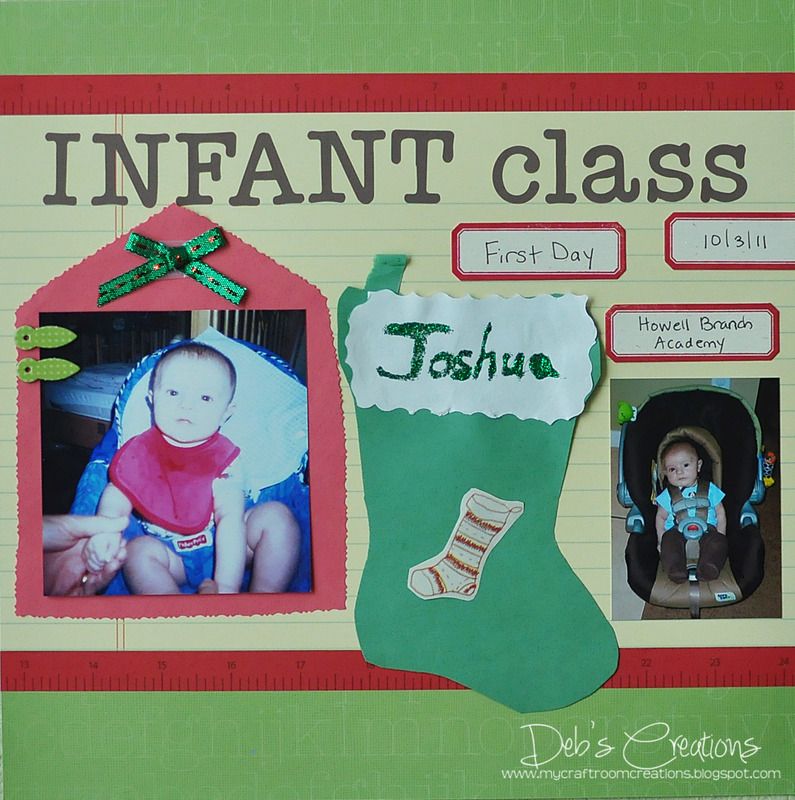 His teachers took the photo of him in the bouncy seat and hung it on the door of his classroom at Christmas time along with the personalized stockings. I know that they were made with construction paper and are not archival safe, but I wanted to keep it real. The small photo to the right we took of him just before we headed out the door on his first day of daycare. I created the subtitles using Angled Labels from Papertrey Ink. I bought this stamp set with scrapbooking in mind and I have used it quite a bit for that reason.
The second page of the layout includes some journaling cards from the kit. Andy was able to join him for Doughnuts with Dad. I cut out the information and header from the monthly newsletter for the journaling and title. And you have to love the notes that would come home with him. He was known for explosive diapers and vomiting. Sigh. I did some machine stitching along the border of the cardstock for a bit of interest. It's amazing that these infant years seem so distant. I can't believe he is in VPK!
That's all for now. Thanks for stopping by!