Happy National Scrapbooking Day!!! I am jumping up and down over here! This year I actually have something to share. Yay!!!
If you follow my blog, then you know I have been working on my son's baby album. The end is close. Aaaaagh!!!
As I was putting together this page, I decided that I would play along with
Pages with Papertrey sketch #22.
Originally I was only going to have one photo on this page, but I felt like it was lacking something. So this sketch was great.
It doesn't go perfectly with the sketch, since the 12x12 patterned paper came that way from the Becky Higgins Sweet Baby kit. This page is opposite
the monthly spread
I shared a few days ago. Joshua had recently turned a year old and I also bought a remote shutter release for my camera. So I propped it up on a tripod and let Leah press the release button. She had such a fun time taking these pictures of us.
The center strip of patterned paper is from the kit along with the chipboard accent. I inked up PTI's Star Prints, Just the Ticket, FF#5, and Boy Basics: Grunge me (all used on the tickets). I used Tag Sale #3 for my journaling and the smile is a rub-on from the kit.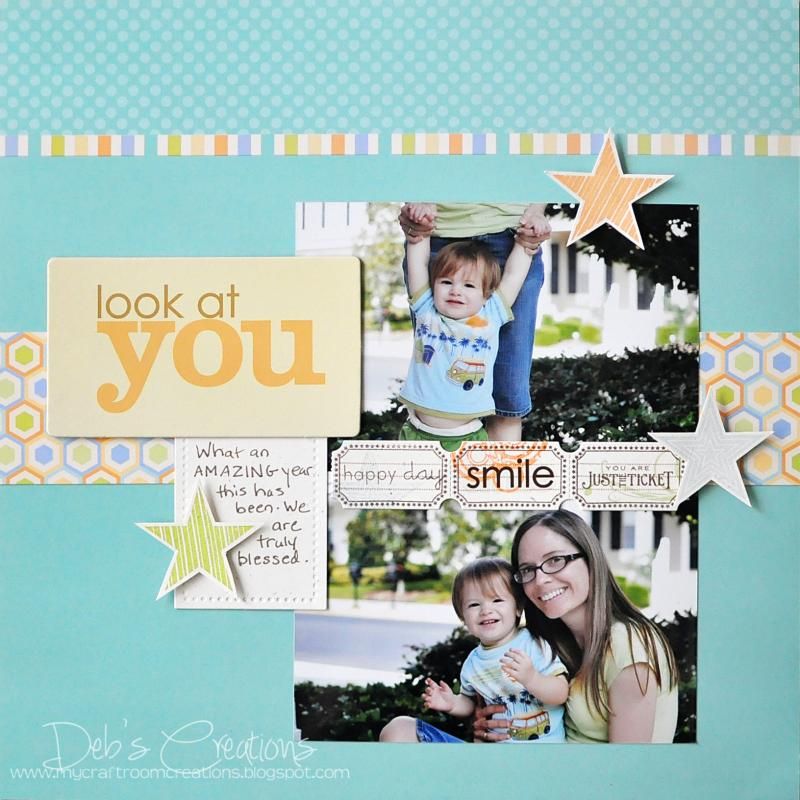 Thanks for stopping by and happy scrapbooking!