I know, I know. It's only Saturday and Mother's Day isn't for another day. But this card will be in the recipient's hands today, so I thought I might as well share. I also have another scheduled post for tomorrow for my mother-in-law so I wanted to keep these cards/posts separate.
I am so excited to be able to link up and play along with this week's
CAS(E) this Sketch! #75
. I am a bit smitten with this sketch because I created
this card
a while back which I really loved and it had a similar design. So in a weird way, I get to CASE myself. Thanks for the awesome sketch, N@Ali .
For my card, I started with some DeNami white cardstock. I used my Martha Stewart score pal to create the diagonal lines. Then I inked up
Camera
from DeNami Design and trimmed it out with scissors. Then I inked up You're Special from
Thoughtful Greetings
petite four. I trimmed out another piece of white cardstock that was large enough for the image and then I attached the camera to the banner using foam adhesive. I used my ATG to adhere it to the cardfront and then added some sequins from
Pretty Pink Posh.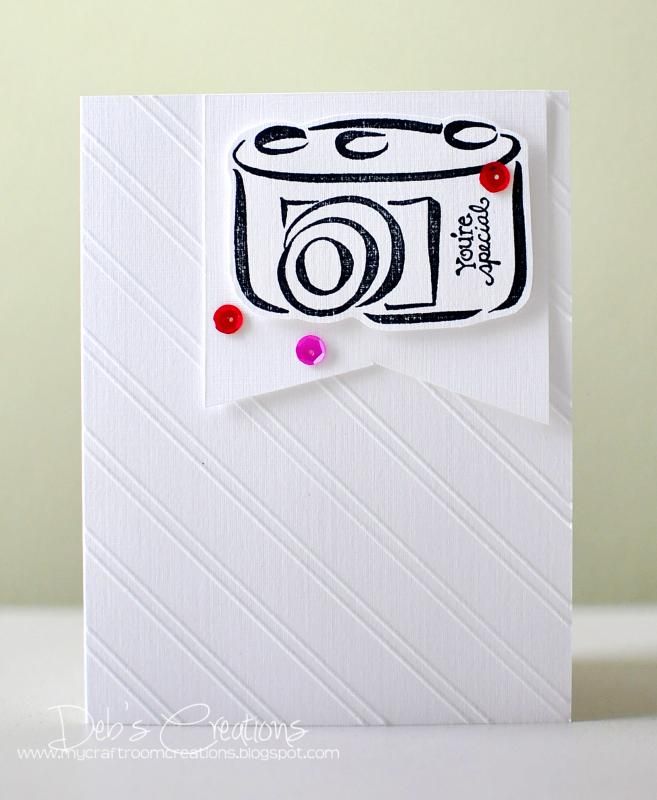 The Happy Mother's Day sentiment is on the inside of the card. You may be wondering why this Mother's Day card would have a camera image on the front. Well, that's because my sister is a photography hobbyist. I try to learn as much from her as I can. Now whether I can find the time to practice myself is a different story. She started this hobby after bringing home her son from China. I have watched her grow in leaps and bounds in her photography skills. If you want a glimpse of how she can take simple things in life and turn it into something amazing, you can visit her blog
here.
She has taught me to embrace the simple things.
Thanks sis, for being an AMAZING mother to your children. I love you like crazy cakes. Happy Mother's Day!