Happy Monday! I know it may seem rather strange for me to post on Monday, but with a "bit" of spare time on my hands, I decided that I really need to tackle finishing Joshua's baby album. There is about 12-15 pages left and I am bound and determined that I will finish it sooner than later. So while going through his baby pictures, I discovered that never did post a layout that I have already completed. It is the other half of
this page.
What I really love about the page I have to share today is the combination of aqua and red. Red can sometimes be so hard to work with, especially in a baby album when you think of pastels.
At 7 months, Joshua was celebrating his first Valentine's Day. It has been a tradition ever since Leah's first Valentine's Day to take pictures on this holiday. Why? Well, this holiday falls a week before her 1/2 birthday, so it is a great way to make sure that I have pictures that show how much she has changed in half of a year. Since Josh's birthday is close to hers, it works out well for him too.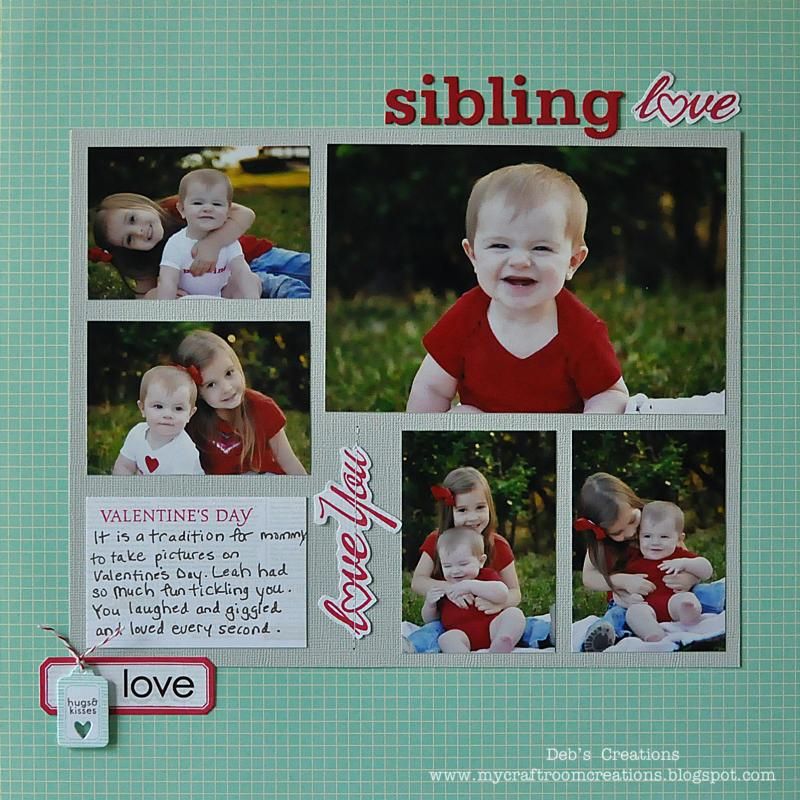 So to create my layout, I used some patterned paper and the love rub on from Becky Higgin's Sweet Baby kit. The gray paper is Cordinations and the rest is PTI. This layout falls into two Pages with Papertrey challenges:
Use a combination of fonts for you title (16)
and
Use at least 3 different dies, bonus if they are from different collections (19)
. So to create my title, I die cut "sibling" using Block Alphabet in Pure Poppy cardstock. Then I inked up "love" from 2010 Love Tags. I fussy cut it out. To make my subtitle, I inked up "love" again and then selectively stamped the "you" from Big Bold Wishes and adhered it with some stitching.
On my journaling block, I stamped Background Basics: Newsprint in Soft Stone. I also did this to the "love" in my title and subtitle and also to my rectangle label die embellishment. It is subtle, so it is hard to see, but it is there. I guess this also qualifies this page for challenge 14,
Use a stamp repeatedly on your layout.
The Valentines Day sentiment come from Heart Prints.
The last detail on this page uses the rectangle from Label Basics, stamped in Pure Poppy. Layered on top I added a tag from Tiny Tags II inked in Aqua Mist with a sentiment from the same set inked in Dark Chocolate. I finished it off with the Pure Poppy's bakers twine.
I have one last thing to share about this layout. If you look at Joshua's white onesie, you will notice a red heart and also some red words. I wanted him to have a Valentine outfit for the photos, but the thrifty me did not want to spend $20 on something he would wear once. So luckily he had a red onesie and a plain white Gerber onesie. I used these white onesies for his monthly photo session. So this was the last one in the pack, that he had really outgrown. I decided to die cut "be mine" from Block Alphabet and a heart from Heart Prints and simply glue the paper onto the onesie. You can see just how small it was on him, but in my opinion, it didn't go to waste *wink*.
Well, that is it for me today. As I mentioned, I am trying to work on the rest of his album, so I hope to have more layouts to share with you in the coming weeks. Thanks for stopping by!