Hi everyone and welcome to the DeNami Design, Sweet and simple blog hop. You should've arrive here from
Lyne Blodgett's blog.
If not, you can always head back to the
beginning
for a full list of participants.
The first card to share on the blog today belongs to my daughter, Leah. Since I had created my card before her, I had suggested that she might want to use my ice cream sundae stamp since the theme was sweet. She reminded me that fruit is also sweet so she wanted to use my
Apples and Pears stamp set.
She also has it in her precious little mind that my
Medium Bold Hibiscus
belongs to her, but I digress. She chose her sentiment so that this could be a sweet card she sends a friend. Boy, do I love that girl! She selected her own ink colors and designed it herself. I love how she chose to color in the apples and pears with her colored pencils. You may also see some comments on your blogs from her because she has informed me that she would like a chance to win a prize. Fingers crossed.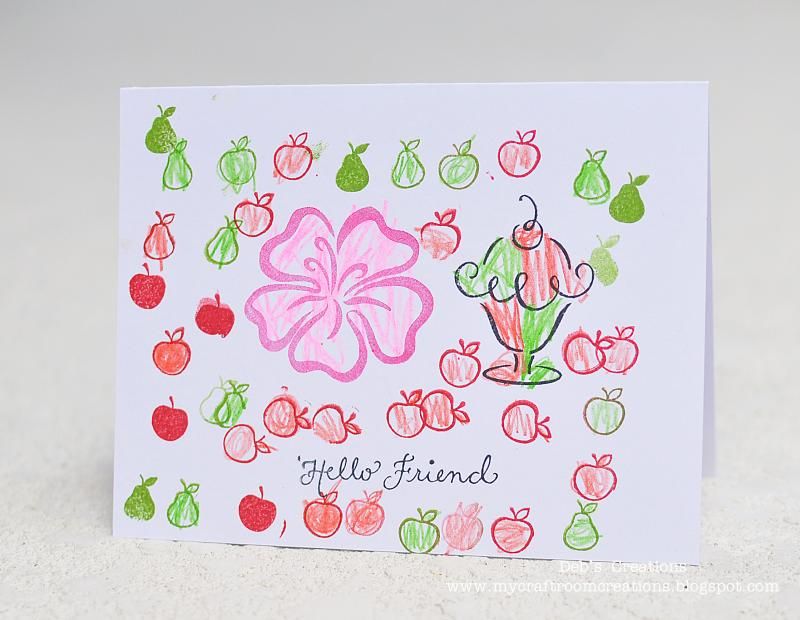 Next up along the hop is me. For my card, I inked up
Elegant Oval,
Ice Cream Sundae,
and
You Are Sweet (cling)
. I did some paper piecing (Lawn Fawn Bright Side) and fussy cutting. I used my crop-a-dile to hole punch the rectangular panel to attach the bow. I used some May Arts chevron twill ribbon. Love it!!! It does look a bit off center in the photo, but the bow just needed some tightening. We have been super busy these past two weeks with preparing for a joint birthday party for Leah and Josh, that I simply did not have time to rephotograph it.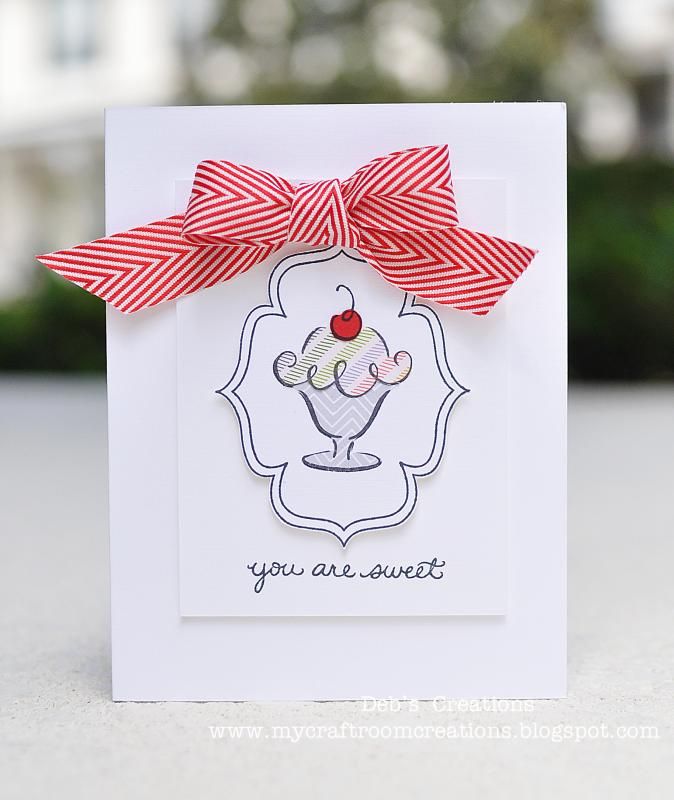 Next up along the hop is the talented
Amy Smidebush
. Now if you read down further on her blog, which I do suggest you do, you will see just how much this girl loves to participate in the hops. I know you will not be disappointed.
Don't forget about the THREE gift certificates that will be given away! One gift certificate will go to a random participant and TWO gift certificates to TWO people who comment along the hop! You have until August 12, 2013 11:59pm PST to comment and be eligible.
ETA: After going through the hop, I realized that I can enter my card into this week's
CAS-ology challenge: Dessert.
It's been a while since I have played along.
Happy hopping!