So glad that you have stopped by today. I have a card to share with you for this month's DeNami Design Fuzzy friends blog hop. You should've arrived here from
Lyndal's blog
. If you get lost along the way, you can head back to the
DeNami Design blog
for a full list of participants.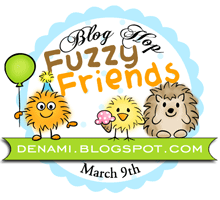 For my project, I wanted to recreate my very first card that I made using DeNami stamps. When I was a Girl Friday at CAS-ual Fridays, DeNami sponsored one of our challenges and the team received some fabulous product to work with. You can see my first card
here.
For today's card, I inked up
Elephant
onto some gray cardstock and cut him out. I used my notebook die to die cut some cardstock and adhered some graph paper to the front. I attached my elephant using foam adhesive and then added my
Stomping By
sentiment. I wrapped some
twine
around the bottom. For the rainbow chevrons, I inked up
Modern Borders
in rainbow fashion. This piece was actually a remnant of another project that I never parted with because I just knew it would some day find it's way onto a card front *wink*.
So your next stop along the hop is right here. My 6 1/2 year old daughter, Leah, created a card for the hop. She decided to pick out as many chickies that she could find between her stash and mine, and then lined them all up. She started off with them lined up in two rows, but when she actually went to start stamping them she realized that she could fit more in a single row. I helped her trim her cardstock and that was it.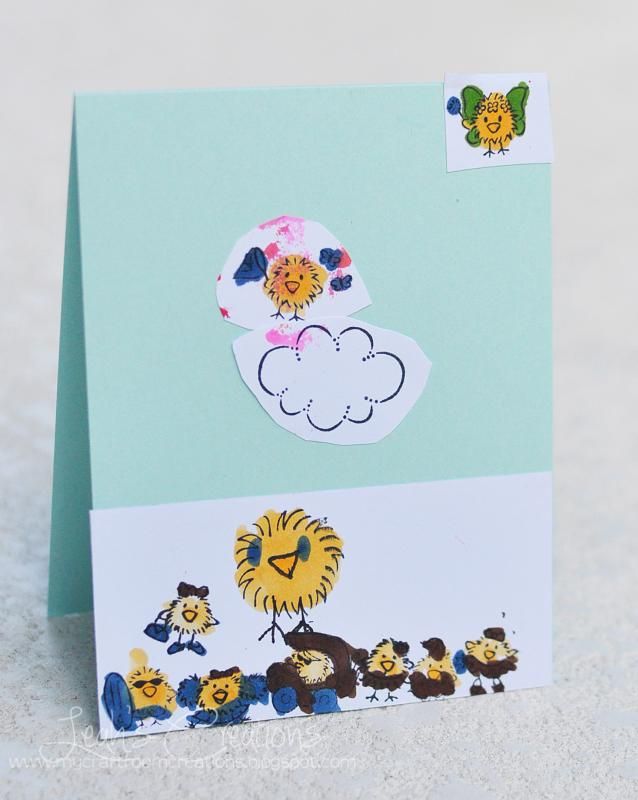 She told me that when she was designing her card, she lined up the chickies on the bottom because they are watching a movie. The pink on her
Chickie and Butterflies
is ink that came off of another image she colored. She used
Fuzzy Ball
and drew her own beak and legs and created her own eyes with a blue copic marker. Do I have a stamp illustrator in the making? lol. Here is what she has to say about her card.
"My card is a movie card. All those fuzzy creatures are watching the movie. You see that chickie fairy up there? That makes the show work. After the chickie catches the butterflies, a hot air balloon is supposed to come. But something was wrong with the movie because the chickie fairy was in the living room. The reason why they had the movie is to say "I 'm sad that you have to go away tomorrow. Because that's when the surfer chickie moves to Hawaii. And also she promised that they would be together forever. What would she do? She would vanish forever."
Okay, so that was quite the dialogue. I hope you have enjoyed your visit here today. Your next stop along the hop is none other than the super talented and so sweet,
Paulina.
I am on the edge of my seat to see what she created.
Don't forget about the THREE gift certificates that will be given away! One gift certificate will go to a random participant and TWO gift certificates to TWO people who comment along the hop! You have until March 9, 2014 11:59pm PST to comment and be eligible.

Have a great rest of the week!