Hello friends! I mentioned about 2 weeks ago, that I had a tiny bit more time on my hands to work on some projects. I am bound and determined to finish my son's baby album before the holiday season is upon us. So I have a layout to share with you for Pages with Papertrey.
This layout started off as
Sketch 17
, but then I realized quickly that I could stamp my own background and fulfill two challenges since
Challenge 13
is to create a layout without using patterned paper . Love that!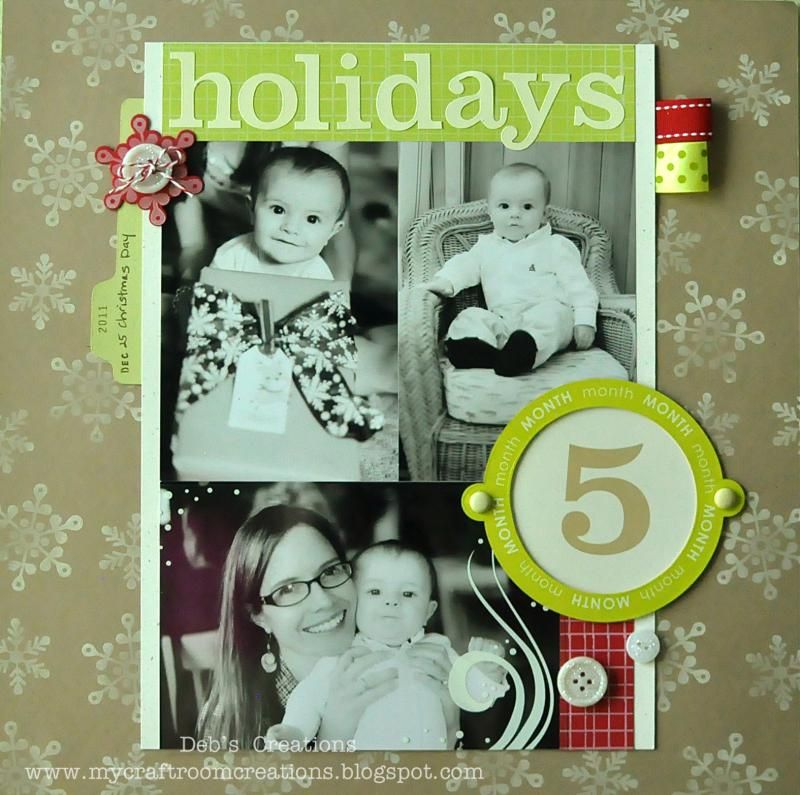 I inked up PTI's Peace Be Still snowflakes with Vintage Cream ink onto some kraft cardstock. Then I layered my pictures onto some Rustic Cream cardstock. For the title, I inked up Mini Scrapbook Series: Library Ledger with Vintage Cream ink onto the second side of some green patterned paper from the Becky Higgins Sweet Baby kit. I also used stickers from the kit. I did the same thing to some Pure Poppy cardstock that is in the bottom right corner.
The red ribbon is Pure Poppy saddle stitch and the polka dot is from the kit. While adding/making my embellishments for the page, I decided to add some glittered buttons to enhance the Christmas feel of the page. This happens to be
Challenge 17
, which is to add a Make-it-Monday technique. I used my Silhouette to cut out some
Tabbed folders (5834)
out of Spring Moss paper and I used Mini Scrapbook series for the date and info as well as my own handwriting (ugh- I am not a fan). The bottom photo has a clear acetate from the kit, which is why you see the reflection of my shirt in the left side of the photo. Oops. The monthly chipboard accent is also from the kit.
Thanks to my sweet and fantabulous sister for taking these pictures. If you look at the handmade tag on the present, that was actually my first paper publication! I will have the second half of this layout to share with you later this week. So stay tuned to the blog. Have a great week!